2018 World Cup Series: Business Maxims The Competition Teaches Startups
By
| July 16, 2018
32 teams voyaged for Russia this year, and after 64 matches, 49,647 passes, 169 goals, lots of tension, show of style, the biggest soccer event in the world has come to an end, and France is going home with the 18 karat golf FIFA trophy. It has been dramatic, terrific, exhilarating and most of all insightful. Each and every team tried their best while fighting for the title. With every moment of the tournament, every second, there is something to learn.
While the world will celebrate the French team in the next few weeks, startups out there can use just as much time to take these maxims to heart, ponder on them and equally snatch victory from the grip of adversity. Thanks to the turnout, we now have some maxims with which we can better our ventures.
One Man Isn't All It Takes
The G.O.A.T.s didn't really make it far, did they? Well, they, of course, gave the world a taste of what they expected. But the likes of Lionel Messi, Cristiano Ronaldo, and Neymar – three of the greatest players to play in the game went home with dissatisfaction. They were dumped unceremoniously in the tournament, and there is one reason for that – one man isn't all it takes. Eleven players make up one team for a reason, and despite individual skillfulness, experience, recognition, and pride, a good team around is the best strategy. Take the title winners for example. From strikers to forwards, midfielders and defenders, they were balanced. It wasn't about, Griezmann or Mbappe or Pogba or Kante or Umtiti. It was about all of them put together with other best from France to form one soccer battle force. The G.O.A.T.s hardly had a good team supporting them, and that lack quickly showed them the exit home. Despite Messi's international silverware cabinet and Ronaldo's golden boot stash, they didn't win the cup, all for the lack of good teammates.
Even if you are known as the best in what you do, the way to remain on top is to surround yourself with a good team, people that challenge what you say, what you do and what you produce. In spite of being the boss of your venture, you need people who would look you in the eye and advise you when you are out of line. You need to be with people just as good, focused, resilient and goal-oriented – only then will you reach the pinnacle of your venture.
Business, Like Football, Is Based On Results
It may sound like I love saying this, but really, after securing just one point, Germany was knocked out in their group stage. We are talking about the previous world champions. During the tournament's run-up, the German team was held as one of the favorites that would win the coveted trophy – to join Italy and Brazil as the only two nations to successfully defend their world title. Unfortunately for Germany, that did not happen, and honestly, their campaign was somewhat catastrophic for their exceptional standards. What this clearly illustrates is that in the present world, your reputation can only last for so long – it often means absolutely nothing. If you don't deliver up-to-scratch performance, the results won't be in your favor.
The same goes for business. Result Based Management (RBM), a management strategy for business focuses on every person and actor in the direct and indirectly contributes to the desired business goals. RMS works based on a six-point consideration- assess (current situation), think (cause and involvement), envision (the achievement), plan (what, how, when, and with whom?), do (adaptation) and review (issues encountered and solutions). Perhaps if Germany reviewed their recent results before the tournament to devise a better playing strategy, they would have at least successfully navigated their group.
Plan B is Often the Best
Just as Germany, the Spanish team is one of the most talented sides in the world. They are blessed with remarkable technical skill, talent and physical ability. At the start of the decade, the Iberian powerhouses were the dominators of the soccer. Drawing inspiration from Pep Guardiola, Barcelona and its famous Tiki-Taka brand, Spain embraced the possession-based tactic, getting the most out of the generation of technically talented players. Unfortunately for them in the round of 16, they were yet again undone. And this time, the tragedy was signed by Russia, the host nation, with an admirable show of defense. According to pundits, Spain lost the game and exited the World Cup because they don't have a plan B when things are not looking up for them,
This critical loss for the Spaniards is a demonstration that business always needs a plan b just in case the need suddenly arises for you to take a different, perhaps maybe more strategic approach. In any project management task, do well to appoint an additional time to ensure you deliver promptly, ultimately satisfying the involved stakeholders.
Believing Should Never End
In this regard, it wouldn't be a maxim if I don't mention the English team. On 3rd July, the Three Lions finally cast aside the seemingly timeless aspersion of their spot-kick prowess by winning the penalty shootout against Colombia. Before then, England had not won any. But after 120 minutes with nothing to separate the teams, some dodgy referee officiating and a provocative Colombian opponent, Eric Dier netted a well-placed penalty kick to seal home England's place in the last eight.
England had a not-so-encouraging penalty record – the win at Moscow marked their first-ever triumph at a World Cup knockout stage. It was all a result of the work the English manager, Gareth Southgate had put into getting his players mentally prepared for the penalty prospect. England didn't win the cup, but they certainly got that ugly, hunching penalty-shaped monkey off of their backs.
What you can learn from this is never to stop believing. Keep calm, stay focused and in control of your emotions in challenging situations as regards your business. It will eventually result in the best result you so much desire.
Being an Authentic Leader Pays Off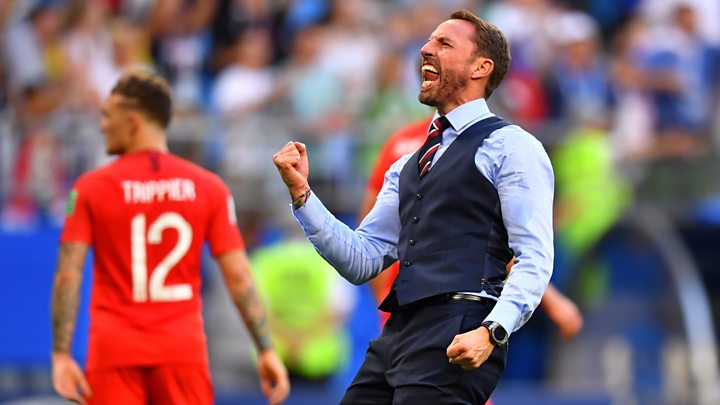 If you are looking to win hearts and impact minds, then you need to have the compelling authentic leader character. There is little wonder that Gareth Southgate has inspired the trending Twitter meme with hashtag #GarethSouthwould rising well above the ordinary football gossip. We and his nation love Southgate because of his nice guy demeanor and down-to-earth approach. In his M&S waistcoats, he embodies authentic leadership. Even when they are bedecked and bombarded with daily distraction, authentic leaders stand out and stay present. They are the ones that listen more than they talk, which gives them the ability to pace down and concentrate on what's essential.
UCLA's Mindful Awareness Research Center discovered that normal meditation goes a long way in improving executive functioning – minimizing distractions and maintaining focus. They are self-aware, able to identify what they feel and when they feel it, in bid to self-regulate and manage their emotional responses, even when they are under intense pressure. Like the World Cup players and the revered Gareth, authentic leaders keep it together at all times. One coach I admire for never flinching is Russia's. I think of that guy of a no-nonsense mafia football strategist.
You Win or You Learn
Finally, the 2018 FIFA World has taught us that we should learn from our failures. 32 teams started the game, and they all knew only one of them could win. If each player kept that fact in mind, they would probably throw in the towel and catch the next plane home. But they don't. England recently lost to Iceland and got knocked out of Euro 2016, but that hasn't flung shut the doors of football to them. They are the first footballers' history can tell us about.
Failure may hurt, but it doesn't define us. In order to be successful in business, you need a growth mindset. You need to let yourself feel what you feel, embrace those emotions, and consider them as data. Mulling over a downfall doesn't move us forward; it is learning it that is the key differentiator. What you do with the information matters. Mindful entrepreneurs keep track of their emotions, identifying them and use them as bases for new habits, behavior, and strategy. Just like the 32 teams that went it for the long tournament, sure-fire entrepreneurs either win or learn.
To develop a growth mindset, there are 4 things you need to so. First, you need to accept both the fixed and growth thinking, as they both count as information. Then explore and understand the mindset, after which you will affirm that you have the capacity to change it. Finally, formulate a strategy and choose growth mindset actions.
Just as we are congratulating the Frenchmen on their remarkable World Cup win, if you stick to the tips we have been sharing here since the World Cup started, we would be celebrating with you too in no distant time. This is the last of the 2018 FIFA World Cup series – we hope you have had a good time watching the game and reading these posts. If your favorite team won, kudos to you! Cheers to the next few weeks of euphoric opinions and comments to herald France's victory.
P.S – Never forget that resilience is all it takes. That's why France lifts the trophy.