"It's As If The AU Chose To Have A Meeting In Yokohama" – Here's Why 32 African Leaders Have Left Their Countries For Japan
By
| August 29, 2019
In the last few days, Japan has thrown its doors wide open to visitors from across the globe in preparation for the seventh edition of the Tokyo International Conference for African Development (TICAD) Summit which officially got off to a start yesterday, August 28, in Yokohama, Japan.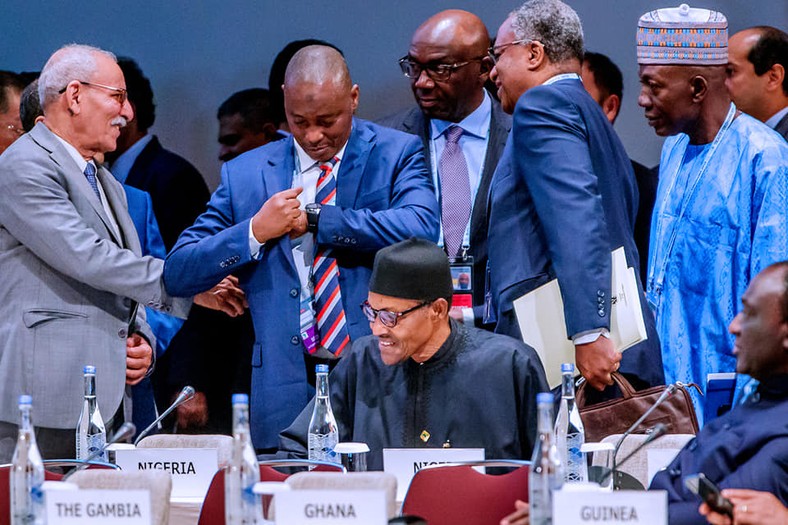 One thing that stands out in this year's event is the sheer number of African leaders who are in attendance — 32 African Leaders at the last count; it's almost as if the African Union (AU) got bored of Addis Ababa and ran off to Yokohama to hold an emergency meeting out of earshot.
African leaders in Japan include:
Faustin Archange Touadera, Central African Republic
Azali Assoumani, Comoros
Danny Faure, Seychelles
Alpha Conde, Guinea
Patrice Talon, Benin
Julius Maada Bio, Sierra Leone
Andry Rajoelina, Madagascar
Ismail Omar Guelleh, Djibouti
Joao Lourenco, Angola
Hage Geingob, Namibia
George Weah, Liberia
Felix Tshisekedi, Democratic Republic of Congo
Uhuru Kenyatta, Kenya
Yoweri Museveni, Uganda
Abdul Fatten Al-Sisi, Egypt and current African Union president
Paul Kagame, Rwanda
Mohamed Abdullahi Farmajo, Somalia
Emmerson Mnangagwa, Zimbabwe
Faure Gnassingbe, Togo
Mahamadou Issoufou, Niger
Nana Addo Dankwa Akufo-Addo, Ghana
Muhammadu Buhari, Nigeria
Cyril Ramaphosa, South Africa
Ibrahim Boubakar Keita, Mali
Edgar Lungu, Zambia
Macky Sall, Senegal
Leaders of delegation that aren't presidents include:
Thomas Thabane, Lesotho Prime Minister
Everton Herbert Chimulirenji, Malawi Vice-President
Isatou Touray, Gambian Vice-President
Amadou Gon Coulibaly, Prime Minister of Ivory Coast
Osman Saleh, Foreign Minister if Eritrea
Abiy Ahmed, Ethiopian Prime Minister
"We need to focus on youth, particularly young girls, to open up pathways for them in education, skills development and entrepreneurship…"

~President CyrilRamaphosa #TICAD7 #BetterAfricaBetterWorld pic.twitter.com/r3ln9D8pwu

— PresidencyZA (@PresidencyZA) August 29, 2019
Except for its sixth edition, every edition of TICAD has taken place in Japan, but no edition has brought together such a large number of African leaders under one roof, such that some African leaders have even decided to use the opportunity to finally have a sit down with fellow African leaders.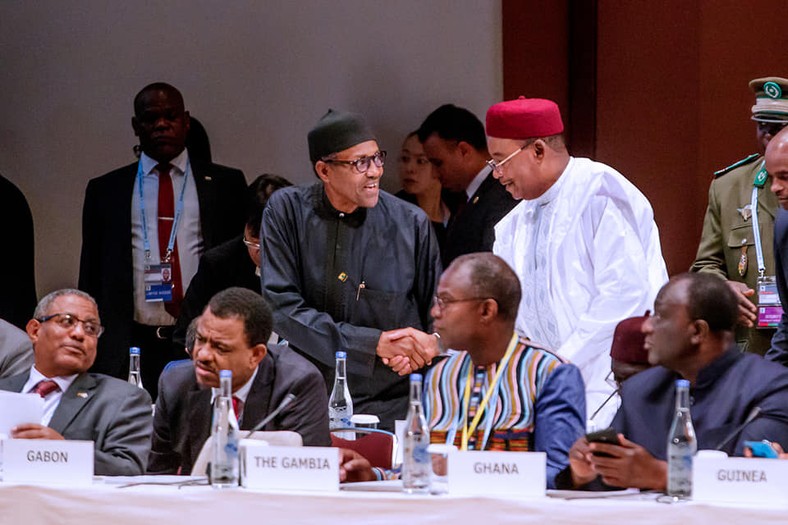 For instance, Nigeria's President, Muhammadu Buhari, has held talks with his South African counterpart, President Cyril Ramaphosa, and he had time to have a chat with Benin's President, Patrice Talon.
It would be recalled that the South African President extended an invitation to President Buhari to visit South Africa for a discussion in light of the recent cases of violence targeted at Nigerians living in South Africa and reprisal attacks targeted at South African businesses in Nigeria. And having crossed paths in Japan, the duo probably sought to make acquaintance.
So, Why Are 32 African Leaders In Japan?
While African leaders are holding talks with one another on the sidelines of the TICAD Summit, they're actually attending the event with the intention of snapping up bigger fishes to fry. Simply put, these African leaders recognise that the continent is ripe for investments and the goal is to entice as many global business leaders as possible.
There are billions of dollars flying around in the TICAD Summit and the idea is to attract as much of it as possible. For starters, Japanese Prime Minister, Shinzo Abe, on Wednesday, renewed Japan's pledge to boost investment in Africa from the country's private sector to more than USD 20 Bn over the next three years, in the hope of facilitating the development of the world's second-largest and second most-populous continent, and probably outdo their Asian neighbours, China, on that front, who are doing the most on the African continent at this point in time.
"We will do whatever it takes to assist the advancement of Japanese companies into Africa," Abe told African leaders who gathered for the Tokyo International Conference on African Development.
Today on sidelines of #TICAD7 : President #Kagame holds bilateral talks with PM @AbeShinzo

Our President meets with JICA president and @GlobalFund Executive Director

He also meets with Presidents @edmnangagwa of #Zimbabwe n @CyrilRamaphosa of SA.

H.E is a scrupulous leader pic.twitter.com/DIBwjA5PHp

— Mirindi ?? (@MirindiD) August 29, 2019
In a speech at the opening ceremony of the three-day conference in Yokohama, near Tokyo, Abe said Japan has long emphasized human resource development in Africa, adding, "We are in an era in which the challenges Africa faces will be resolved through science, technology, and innovation."
Fresh from attending the G7 Summit in Biarritz, France, Abe also proposed a set of human resource development programs for Africa, including training 3,000 people in Japan over six years, who can contribute to the promotion of business between Japan and the continent.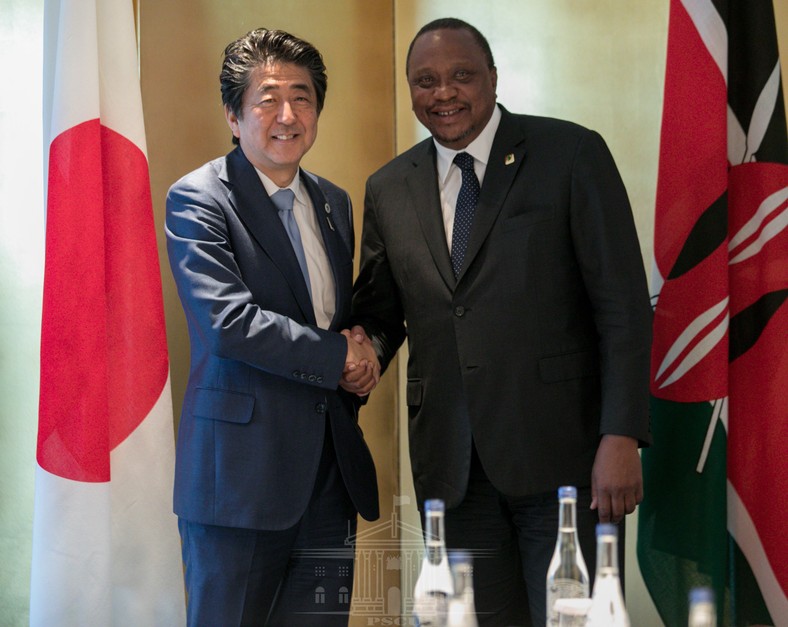 According to Japan's Foreign Ministry, between 2016 and 2018, a total of USD 20.6 Bn was invested in Africa from the Japanese private sector between 2016 and 2018. And Abe's pledge meant that the government of Japan is more prepared than ever to encourage greater investment from the private sector with the aim of eclipsing the figures from the last three years, though the Japanese Prime Minister did divulge a specific target figure.
According to government officials, this year's TICAD summit will focus more on business opportunities than previous meetings as Japan is convinced that investment by the private sector is crucial to realizing sustainable economic growth of the resource-rich continent.
Japan is pushing domestic companies to tap into the growth of the continent, whose population is projected to reach 2.5 billion in 2050, or a quarter of the global population, amid fierce competition with China, the United States, and other rivals.
.@rochkaborepf a échangé, ce jeudi à Yokohama, avec la délégation de la chambre de commerce et d'Industrie conduite par Mahamadi Sawadogo. #BurkinaFaso #lwili #TICAD7 pic.twitter.com/i91j3OtdYA

— Présidence du Faso (@presidencebf) August 29, 2019
Egyptian President, Abdel Fattah el-Sisi, who co-chairs the conference along with Abe, said, "On behalf of Africa, I'll be calling upon the world institutions and multinational companies to invest in our continent."
Japanese companies had nearly 800 offices in Africa in 2017, up around 50 percent from 10 years ago, according to the Japan External Trade Organization. More of those will be expected to spring up on the backs of this year's conference and the African leaders in attendance appear to be jostling for the best serve.
Featured Image Courtesy: africanews.com