Xenophobic Attacks Affected Shoprite's Earnings In Nigeria & It May Exit All Markets Besides SA
By
| November 7, 2019
The poor performance of Shoprite stores outside of South Africa is reportedly forcing Africa's largest grocer to consider calling it quits with its business in non-South African markets like Nigeria, Angola, and Zambia.
In simple terms, Shoprite is thinking about calling it quits, closing shop, and exiting all other African markets, besides South Africa.
This is due to a downturn in its fortunes in other African markets where it has a presence, apart from South Africa. The South African firm attributed the decision to re-evaluate its position in non-South African markets to currency devaluations and a challenging quarter report marred by xenophobic attacks in Nigeria.
A couple of months back, a rush of xenophobic attacks in South Africa triggered reprisal attacks in Nigeria where some Shoprite outlets were raided and pretty much emptied. Shoprite said this impacted its financials and partly caused the decline.
In the three months to September 2019 financial results released on Monday, November 4, the Shoprite's Supermarkets Non-RSA segment's sales declined by 4.9 percent.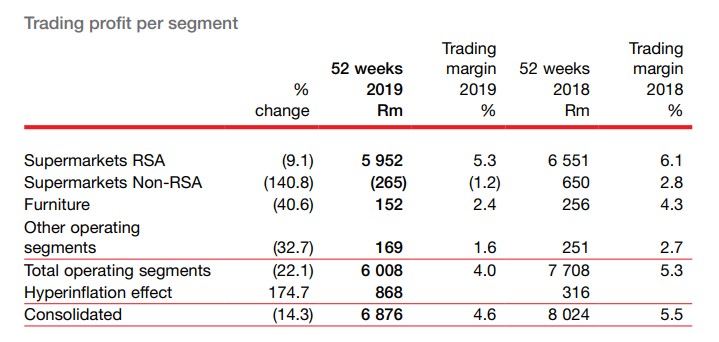 The company said it would conduct a performance review of the markets after the dip in revenue in Q3 2019, excluding its South African market where it has its core business.
"If we have to close a country we will, we will make the decision no matter how hard it is," Chief Executive Officer, Pieter Engelbrecht, told shareholders at an annual meeting on Monday. "We are not scared to take the hard decisions."
Shoprite currently has 24 outlets in Nigeria. But outside of South Africa, the South African grocer continues to post losses owing to forex conversion in local currencies and rising inflation.
In 2019, Shoprite's financials took a hit when it suffered a sharp drop in profit. A year prior, it had recorded a 3.8 percent decline in earnings. It was the first time in 19 years that the company recorded negative returns. And it doesn't seem like things have improved since then.
Shoprite said it will keep an eye on capital expenditure in non-South African markets, control costs, and maintain operational efficiency. The company's management is "reviewing the return" on its capital invested in the rest of the continent, while it intensifies efforts to trim expenditure.
As a stark contrast to the poor numbers Shoprite is doing outside of South Africa, the company continues to impress in South Africa.
Shoprite's South African unit made light work of the economic downturns in the country to deliver a 10.3 percent increase in revenue in the three months leading to September this year.