World's Largest Single Crude Distillation Column Successfully Installed At Dangote's Giant Refinery In Lagos
By
| December 23, 2019
By now, it is no longer a secret that Africa's richest man is cooking up what can be said to be ambitious. The tycoon's plans for a mega petroleum refinery was very much what defined 2019 for the Dangote Group. 
Now, things are looking up for his in-progress refinery site as the Aliko Dangote records yet another win in his "crazy" project. 
Earlier in December, news broke that the serial entrepreneur's acquired world's largest single crude distillation column had landed in his refinery site after four months of being transported across the sea. 
Also called the atmospheric tower, the gargantuan crude distillation column has been successfully installed at the site of the project in Ibeju-Lekki, on the outskirts of Lagos. 
The equipment which was built by Sinopec – a Chinese manufacturer – was successfully set up last week, the company disclosed in a tweet. This is the largest single crude distillation column where different products are boiled off and recovered at different temperatures.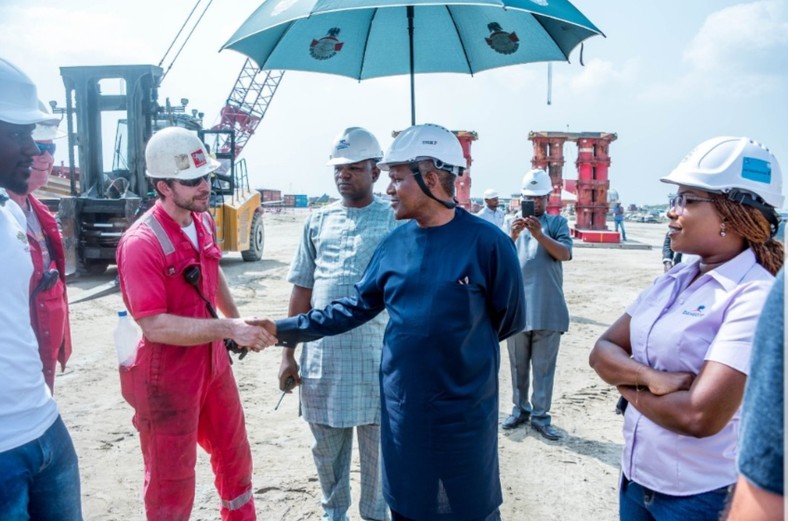 It has been further described as the largest single-train facility used for refining crude. According to the firm, it has a diameter of 12 meters, a length of 112.56 meters and a unit weight of 2252 tons. 
About two days ago, members of the Nigerian Governor Forum (NGF) paid a visit to the refinery under the ushering of Kayode Fayemi, the governor of Ekiti State. The team of 11 governors described the multi-billion project as a pride to Nigeria and Africa. 
The project has gathered much attention, piquing the interest of both the leadership and business stakeholders in the country. Hopes are that the project, once completed, will create thousands of jobs for the unemployed youth population of Nigeria. The refinery will as well contribute immensely to the development of Africa's largest economy. 
Nigeria's Dangote Refinery is expected to be completed and operational in 2021.