Meet Taher Sellami, The 19-Year-Old Tunisian Solving Gender Discrimination With A Mobile Application
By
| July 22, 2019
According to the African Development Bank (AfDB), African women are held back from fulfilling their potential by many drawbacks, whether as public leaders, boardroom members, or business managers.
This deficit is a major hamper for the continent's economy, as these women spend way too much time doing unproductive tasks such as firewood fetching and other menial tasks. 
Even though African women work 50 percent longer hours than men, the pay gap between both genders is rather disturbing. When compared to gender equalist countries such as Sweden, Denmark, Canada, Norway, and the Netherlands among top others, African countries are lagging way behind when it comes to gender equality. The only exception is Rwanda, where men are actually the ones groaning.
According to the World Economic Forum, women in rural parts of Africa spend about 40 billion hours a year collecting water, especially in Sub-Saharan Africa.
The organization's most recent Global Gender Gap report says that with the rate at which the gender gap is being closed, it will take another 108 years for men and women to be truly equal. 
Perhaps – just perhaps – these are the reasons behind the creation of a disrupting app called INO. From North Africa comes the fresh story of a 19-year-old Tunisian, Taher Sellami, who is also an entrepreneur and business student.
He has been recognized for his efforts to use innovative technologies to drive social change not just in his home country, but across Africa and the globe.
Taher created INO, an app that links job seekers with company vacancies. Leveraging cutting-edge tech like the blockchain, the innovation secures the identities of the applicants tendering their CVs via the app.
While the CVs are uniform, they are anonymous and devoid of photos and any other information that gives the companies an idea of the job candidates – including their sex. So doing, applicants are considered based on their skills and qualifications, rather than on their backgrounds.
The Middle East and North Africa (MENA) has its fair share of gender-based discriminations. This segregation in the region is not based on just origins and religions, but sex, gender identity, health disability, age, language ethnicity, socioeconomic status and many more surprising reasons. 
According to Taher, a friend of his was a victim of such unfairness, and that motivated him to try to change things. "A good friend from Cote D'Ivoire, an architecture student, was refused his dream job. And the person who actually got the job, I knew him too. And he was far less skilled, but he was Tunisian," he says.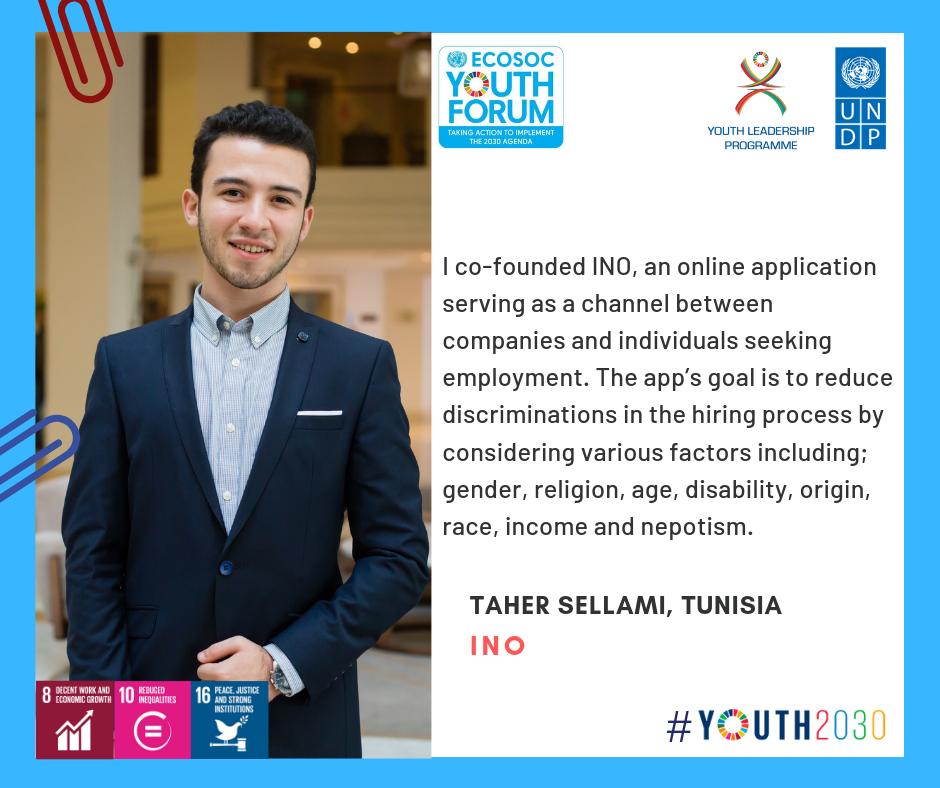 "They called me names. I was asked, 'why should you fight for women's rights if you are a man, let's not fight, let's not worry about them.' I believe that it is an equal responsibility. Men should be fighters just as much as women, if not more. 
I believe that equality between men and women is not only a question of economic equality or equity, but above all, it is a moral imperative. It's a concern for justice and equity at the political, social, and cultural level. It's also about thinking about the next generation. If the gap between women and men continues to grow, my daughter, my niece, my grandchildren are going to suffer". 
Taher Sellami is also a member of the Youth Leadership Programme, an initiative by UNDP in partnership with UN Women with support from The Swedish International Development Cooperation Agency.
Sellami aims to use entrepreneurship and innovative technologies to drive social change. In April 2019, he attended the ECOSOC Youth Forum at UN Headquarters in New York and spoke to UN Women about his work on INO, an app that aims to eliminate discrimination in hiring processes.