North Africa This Week: Startup Event Glimpses [July 16-22, 2018]
By
| July 23, 2018
The North African startup ecosystem seem always to be abuzz with activities and the past week has been no different. A number of events which are geared towards unearthing some of the finest entrepreneurial minds in the region's Tech landscape, as well as empowering startups with the resources and connections with which they can cause ripples in both the regional and global markets, are known to have held in the past week.
And as usual, we have got you covered on that front in case it slipped under your radar. This week's installment of the North African Startup Events Glimpses series features highlights from some of the notable startup events which took place in and around North Africa this past week. Now, here are excerpts from some of them.
StartEgypt's Female Founders Workshop Held In Cairo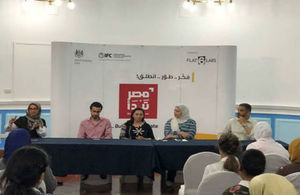 Cairo, the Egyptian capital, played host to this year's Female Founders Workshop designed to help female founders take their first steps towards actualizing their business idea or startup. The event which took place at KMT House on Tuesday, 17th July 2018, featured a number of 'Womanpreneurs' and resource persons who were looking to empower other female entrepreneurs by equipping them with the requisite tools business success in a sector that is thought to be dominated by the menfolk. The event was put together by StartEgypt; a UK-funded startup initiative that is aimed at inspiring and supporting thousands of Egyptian entrepreneurs and social impact enterprises through the provision of a number of services, activities, and rich, targeted content. As part of its program of activities, the event included registration, networking, panel discussion, Q & A session, workshop, and light refreshments for the participants.
Falak Startups Hosted 'Meet TechCrunch: Learn More About Startup Battlefield' In Egypt
Following an earlier announcement of the maiden edition of TechCrunch Startup Battlefield MENA slated for Beirut, Lebanon, this October, a meet and greet session was organized as part of side attractions leading up to the main event. The event which was hosted by Falak Startups took place at The Greek Campus in Cairo, on Tuesday, 17th July 2018, featured interactions between startups, investors, and the TechCrunch team. The purpose of the event was to enable all the stakeholders to get familiarized with the Startup Battlefield program in Cairo. Here, founders learned firsthand how to apply for the competition to boost chances of selection correctly. On the other hand, investors were provided with insight as per how to refer early-stage companies in their portfolio. The event culminated in a networking session.
TechCrunch Pitch-A-Thon Held At Flat6Labs Cairo
As part of events leading up to the grand stage in Beirut, Egypt-based startups had the opportunity to pitch in front of Samantha Stein, Director of TechCrunch Startup Battlefield, on Wednesday, 18th July 2018. The event tagged 'TechCrunch Pitch-A-Thon' was put together in collaboration with Flat6Labs Cairo, and it kicked off with an info-session anchored by the Director of the startup competition. One of the highest points of the event was the selection of five startups in a raffle who were each afforded a one-minute elevator pitch and direct feedback from Samantha Stein. In the aftermath of the pitch-off and feedback, networking sessions soon ensued until the event eventually came to a conclusion.
Startup Grind Fez Closing Event Took Place In Morocco
Startup Grind Fez is a community that connects successful entrepreneurs, startups, and aspiring entrepreneurs by bringing them together once every month to share ideas and learn from invaluable insight. The July edition of the event marked the end of the academic year for the community, and it brought together individuals from the Moroccan entrepreneurial landscape who rubbed minds on how to better prepare for the challenges bedeviling green businesses ahead of the next academic year (which is expected to kick off in September 2018). The event took place on 19th July 2018, at Ave Allal Ben Abdellah, Fes, in Morocco. It also featured networking sessions, which was followed by light refreshments.