Team Cash Flow led a handful of victorious players at the just concluded First Bank Fintech Summit. The event, which converged more than 700 fintech fevers, stakeholders and tech enthusiasts, was held at the Oriental Hotels in Lekki, Lagos State on Wednesday.
The Fintech Summit 2.0 metamorphosed into a three-day event that was themed The Future of Banking – The Role of AI and Big Data. The initiative was generally designed to be an avenue for Nigerian fintechs to showcase their original innovations that would fast become solutions in the financial sector of the country's economy. The summit also provides a platform for networking and partnership opportunities between the Bank and the fintech community.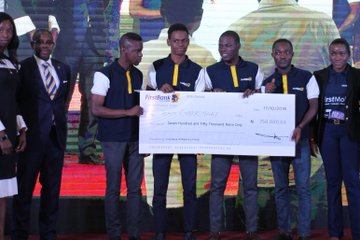 The event featured a two-day fintech hackathon with limelight in Artificial Intelligence and Big Data for voice banking, mobile check validation and other methods of financial fraud prevention which could be implemented by First Bank. Finalists totaling 10 were selected from the competition to showcase their technological and AI solutions during the summit.
After the many presentations, three teams who showcased innovations deemed to be the most impressive and helpful in combating challenges facing the financial industry through AI and Big Data leveraging were selected as winners. The teams that held the centerstage include Team Cash Flow, who emerged first position, Team Ace as the first runner-up and Team CyberSmart in third place. The teams bagged home cash prizes of NGN 3 Mn, NGN 2.5 Mn, and NGN 750 K respectively.
First Bank Fintech Summit 2.0 was graced by key stakeholders in the Nigerian fintech sector, names such as Khadija Abu, Product Partnerships Lead, Paystack; Akin Banuso, Country General Manager, Microsoft; Olayinka David-West, Academic Director, Lagos Business School, Pan African University and Adia Sowho, Managing Director, Mines Nigeria. These guests formed the panel for the event, speaking on the theme aforementioned.