According to Inc.com, most CEOs read four or five books every month. As a startup founder or an established entrepreneur, you need to have specific books that gives you insights and motivation on how to run a business successfully.
Most people live their lives on autopilot, doing pretty much the same thing every single day. As a business owner, whether you manage an SME or promising early-stage company, you need to keep tabs with the various ways to live a more diversified entrepreneurial life.
Many African founders agreed with this, and we have talked to them about the books that work for them. From e-commerce to blockchain, fintech and crypto – though it was hard for them to pick – here are the books our very own businesspersons are reading.

Afrikasokoni (Ecommerce, Kenya) Founder Ebrima Fatty
Just mentioning a single book as the "best book" I have read may be a difficult thing for me to do, because many competing and deserving titles come to mind. Titles like Fooled by Randomness, Black Swan, the Shoe Dog and so on". Released on April 26, 2016 by Simon & Schuster, Shoe Dog reached fifth on The New York Times Best Seller List for business books in July 2018.
The Shoe Dog is the memoir of the creator of Nike, Phil Knight. According to Fatty, this book undoubtedly has the most important influence on his entrepreneurial journey. "You will find in this book the most vivid account of the struggles of entrepreneurship. What makes the Shoe Dog an interesting read is the humor that is put into writing it. Someone calls it "a refreshingly candid entrepreneurial account".
"I think all new and aspiring entrepreneurs should read this book. It serves as a reality check and prepares you mentally for the journey ahead. And I think this is important, especially now that "entrepreneurship" has become very fashionable. Everyone wants to be an entrepreneur, without unfortunately, knowing what it takes to be one."
Mazzuma CEO ( Fintech, Ghana) Kofi Genfi
100 Great Businesses And The Minds Behind Them. "The Case Studies were very enlightening. They gave a real depth to the personalities behind the companies. The scenarios were extremely enlightening and gave a real depth to the personalities be43hind great companies".
According to Amazon, the book is a diverse and inspiring collections of great business stories. Covering a variety of success paths, brilliant strategies and engaging entrepreneurs, each profile explores the genius behind the greatest business minds. The international best seller was co-authored by Emily Ross and Angus Holland.
"An engrossing look at what makes entrepreneurs and business geniuses tick, this book highlights the pivotal moments in the lives of great businesses, with lasting lesson on the art of making your business a success," the statement says.
BlockXAfrica CEO (Cryptocurrency, Ghana) Elisha Akyaw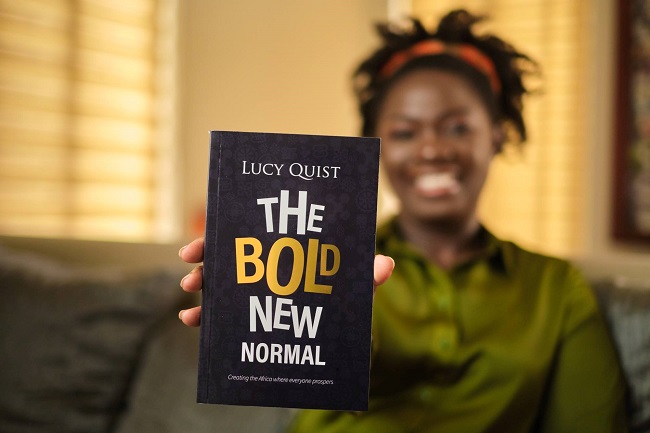 Elisha Akyaw, a 17-year-old cryptocurrency enlightener from Ghana, says his best book in his entrepreneurial journey so far is The Bold New Normal, written by Lucy Quist. Quist is the new Managing Director of Morgan Stanley and the former Head Of Airtel Ghana.
The Bold New Normal presents a refreshing concept on an Africa where everything is possible regardless of challenges.The book looks at the already happening changes and the ones yet to come in a way that highlights the hurdles and the opportunities that lay ahead for us. I recommend this as a must read for African entrepreneurs seeking inspiration and hope in the African dream".
According to Google Books, The Bold New Normal signals a time when Africa where citizens of each country genuinely have the opportunity to prosper. "The formula for sustainable prosperity has been tried and tested world over. Why then do we continue to hope that a different method, that has thus far failed the continent, will create sustainable prosperity".
Yusudi (Edtech, Kenya) Founder Nastia Gutsol
Rework "shows you a better, faster, and easier way to succeed in business. The book was co-authored by Jason Heinemeier and Jason Fried.
From Steve at Readitforme, "We live in a world where we are taught that business must be professional, and that people don't speak to the world, brands do. Here's the problem with that thinking — it leaves out the only thing that your competitors can't copy — you.
When you inject what you believe and your personality into the business, you've created something that your competitors can't replicate. They can try, but they'd fail because pretending to be something you're not is exhausting."
Among other things, Rework offers the idea that you can, in fact, do more with less. Yusudi founder Nastia Gutsol likes the book because she because I can related to the philosophy of "less is more". "It taught me that simplicity is everything, starting from entrepreneur lifestyle to finishing with the features of the product".
"I've been thinking of going for my Master's in Business Administration. But on stumbling on this book, it has taught me virtually everything I'll love to learn," says Olive Garment Factory founder.
"And if for any reason i want to go for the MBA, it'll be solely for the certificate. All business lessons from accounting to organisational structure all embedded in one book," he adds.
Fast Forward MBA In Finance was written by John A Tracy, where she explores the natural starting point for managers -the financial statements – and reveals the essential meaning of each.