TICAD7 Has Come And Gone, And Here Comes The Spoils
The seventh installment of the Tokyo International Conference for Africa's Development (TICAD7) ended on Friday, August 30, 2018.
Except for that one time when Kenya hosted the conference, African leaders have converged in Japan every three years on the invitation of the Japanese government for the TICAD summit since 1993.
Initially, the gathering was focused on discussing the many problems bedeviling the African continent and designing plans to fix those, as well as getting aid. But in recent times, TICAD has taken another form.
These days, it's basically a forum for African leaders to "pitch their countries" in the hopes of securing major investments from a league of recognised global institutions and investors. And this year's TICAD7 was no different.
And Japan Is Cranking Up The Billions
For three days, no less than 32 African leaders rubbed minds over a three-year investment package. This new investment package could be thought of as Japan's way of shouting back at its Asian counterparts, China, who have arguably been doing the most on the African continent in recent times.
This was Japan's way of expanding its presence in Africa, having recently adjusted its strategy from aid to investment. And the early stages of the conference saw Japan's Prime Minister, Shinzo Abe, declare that Japanese private investment into Africa reached USD 20 Bn in the last three years and the country was now pledging another USD 30 Bn.
That set the tone for the rest of the event and by the end of Day 3, several other investments had trickled in. After it was all said and done, here are four notable things Africa came away with at the just-concluded TICAD7 summit.
Ghana And Cote d'Ivoire Bag Auto Deals With Toyota
Ghanaian President, Nana Akufo-Ado, sealed a deal with automobile giant, Toyota, to immediately establish a Toyota and Suzuki manufacturing plant in Ghana with a determined timeline of August 2020 for production.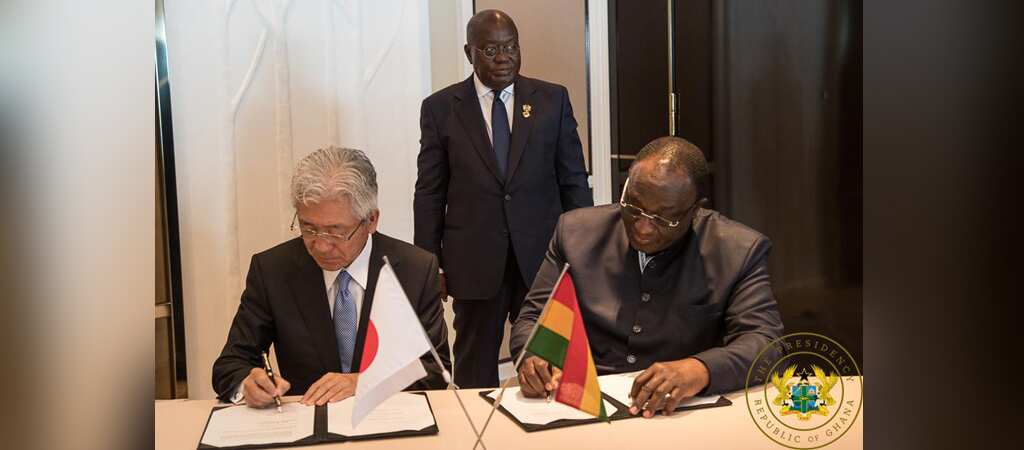 The renowned automobile manufacturer had also signed a deal to establish a similar plant in neighbouring Ivory Coast with a Memorandum of Understanding (MoU) to that effect already signed last Thursday.

Nigeria Gets Support From Japan And The EU
Nigeria and the European Union, last Thursday, in Yokohama, signed a EUR 50 Mn (USD 54.8 Mn) MoU to support humanitarian and development efforts in the troubled North-East region of the country. The signing of the agreement took place on the sidelines of TICAD7.
Nigeria's President, Muhammadu Buhari, who also sought support for the country's campaign against sea piracy, secured a USD 300 K pledge from the Japanese Prime Minister for the Nigerian Defence College. Prime Minister Abe also expressed interest in Nigeria's energy and public health sectors while pledging another USD 112.8 K for the latter.
Kenya Nets USD 144.8 Mn Deal To Host Africa's First Hybrid Power Plant
Kenya's Meru County is set to host Africa's first hybrid renewable energy plant following the signing of a KES 15 Bn (USD 144.8 Mn) deal.
The Kenyan Investment Authority (KenInvest) and the Meru County Government inked the pact for the project with global renewable energy developers Windlab and Eurus Energy at the just-concluded TICAD7.
Dubbed the Meru County Energy Park, the large-scale facility combines wind, solar PV and battery storage project with construction expected to start in 2021.
The facility will provide up to 80 megawatts (MW) of clean, sustainable renewable energy, consisting of up to 20 wind turbines and more than 40,000 solar panels.
AFC Wraps Up USD 150 Mn Facility From Japanese Investors
Following the conclusion of last week's TICAD7 summit, Africa Finance Corporation (AFC) secured a USD 150 Mn loan from Japanese investors with MUFG Bank Limited ("MUFG") and Sumitomo Mitsui Banking Corporation ("SMBC"), acting as Mandated Lead Arranger and Bookrunner.
The corporation explained in a statement that "the facility, which comprises two tranches, with both tranches (USD-denominated Tranche A and JPY-denominated Tranche B) carrying a tenure of three years each (bullet repayment), is AFC's first Asian-currency denominated loan facility.
AFC also described the development as an important step as the corporation builds a broad coalition of investors to diversify its funds and allow institutions from around the globe to participate in Africa's development.