Many African countries have been loosening up on their visa policies as of late. The latest to do so is Sierra Leone, a world fastest-growing destination. The West African country's Ministry of Internal Affairs has issued a public statement announcing visa-free entry to visitors from select countries.
Free Visa In Sierra Leone To Boost What?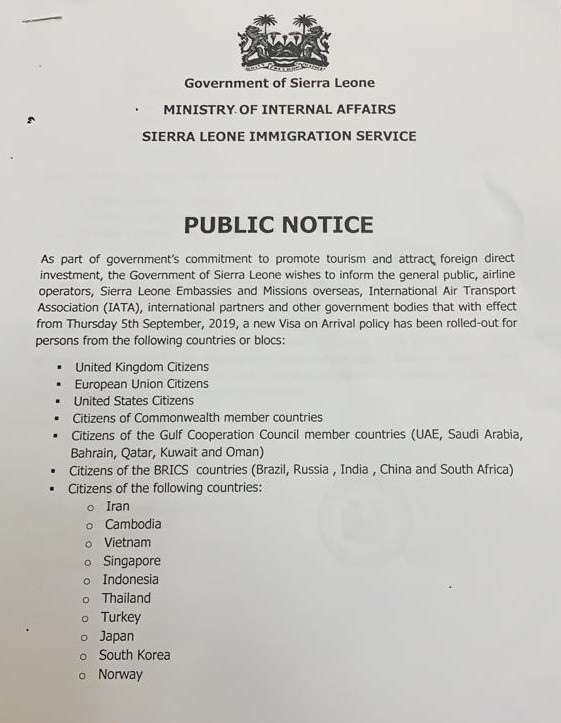 According to Information Minister Mohamed Rahaman, the new policy change is a crucial step in taking the French-speaking country to another level.
Giving people the opportunity to enter the country without the hassle of securing a visa comes as part of efforts to foster tourism. Not just that, but Sierra Leone is also looking to use this medium to attract foreign investments. 
The country's tourism has relatively not been in a good way in recent years. In accordance with a report from The Sierra Leone Telegraph, the sector is bleeding an estimation of USD 100 Mn in revenue.
The deficit has been brought on by a variety of factors. First off, the cost of flying to the country is high. Not to mention the rather scary hotel accommodation bills that tourists have to pay in resorts. 
FOC, But Only For ECOWAS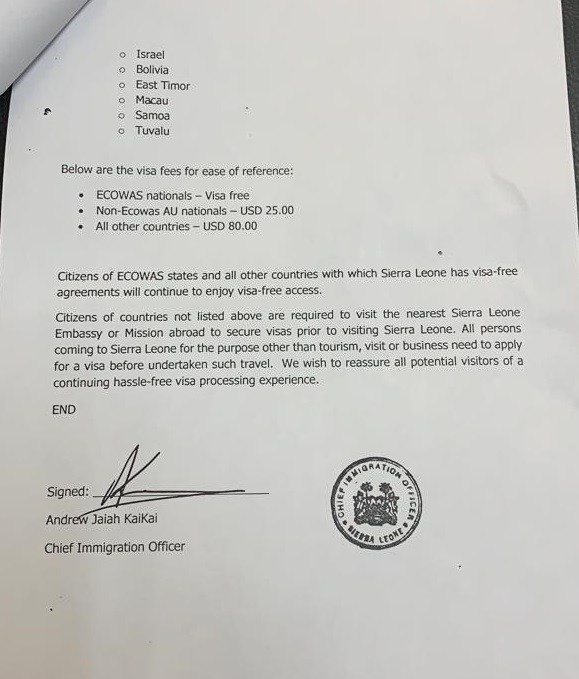 As is evident, the new visa waiving will make visiting the country a lot easier. But it looks as though the policy has a soft spot for citizens of its very region. Sierra Leone decided that citizens of the Economic Community of West African States (ECOWAS) will enter the country free of charge.
African Union (AU) citizens, nevertheless, will still have to pay a (reduced) USD 25 fee to receive visa-on-arrival. 
As for visitors from other countries, the visa goes for USD 80 – perhaps due to security concerns. This affects tourists from the United States, the United Kingdom, and the European Union. BRICS – Brazil, Russia, China, and South Africa – citizens are also included in the eighty-dollar policy.
Being that this country is one of the most peaceful in Africa, it's a rather attractive deal for all concerned, both in Africa and abroad.
Nationals from Qatar, Saudi Arabia, United Arab Emirates, and New Zealand can visit the South Africa without a Visa. Ethiopia too has relaxed its visa policies, apparently to help its economy kick back to life. Countries outside Africa have also issued visa-free policies to enable Africans to tour them. 
Image Courtesy: Lonely Planet