No Power? No Problem! This Nigerian Engineer Is Making Ironing Possible Without Electricity
By
| April 18, 2020
Ironing Dilemma
Have you ever wanted to look dandy and gilt-edged for an occasion, looking to rock your hairsplitting and genteel piece of fabric, only to be done a number by a faulty iron, mind-of-its-own fuse box, or iffy house wiring?
You have envisioned that wedding ceremony for so long, and your role as best man or chief bridesmaid is to be the apogee of your friendship with the 'to-wed'. You barked up the wrong tree by placing all your certitude in the dry cleaner just around the corner, and now you have your tail between your legs as you don't want to bring your lifelong bestie to naught with your shabby, uneven and squeezed looks.
You sure don't want to attend that 'press' conference looking like you haven't gone out in months, and that big presentation with potential investors needs a good-look first impression else your pitch is toast and parch. Well-ironed clothes speak volumes of coordination, dress sense, regard, exposure, personality, and mindset.
But when the electric iron disenchants that premise and stands you up, what do you do? When the power grid inadvertently or accidentally shuts down to everyone's vilification, does it mean you will grace that big occasion with oddly-scrunched clothes or casual alternatives?
Ayokunle Adeniran was in the same dilemma when he was to meet his father at a Nigerian Airport back in 2012. Certainly, beeline to not keep him waiting, the young Nigerian engineer got frustrated when he couldn't get to iron the perfect shirt he thought to attire in because of the unexpected and, in fact, disturbing power outage in his neighborhood.
Long story short; he had to change his choice of clothes that day because there was no way to remove all the creases and get the shirt straightened as he would have liked – that really upset him by the way.
Eureka
As necessity is the mother of all inventions, rather than letting the muddle get the very best of him, Adeniran summoned his thoughts and asked himself how he could make an impact in the Engineering field with respect to the rumpled shirt crisis that annoyed him. I
nstead of sulking over the frustration brought about by the inconvenience caused by ruining the big day with his Dad, he decided to take some steps to invent a kind of pressing-iron that could work without electricity.
There is no gainsaying that constant power supply is yet a mirage to many parts of Africa. This Nigerian engineer who schooled at Covenant University, where he studied Mechanical Engineering, started seeking the best ways he could innovatively come up with a kind of iron that would run without grid electricity. And thus was the provenance of what we today know as Nepaless Iron.
Breaking away from the reliance of volts and bolts, the young graduate built the iron to run on cooking gas – also called butane. A gas canister provides the needed energy to power the device.
There are actually six canisters in each gas cartridge, each of which can last for about a fortnight worth of daily ironing. That means, all things being equal, this invention by 'Sean' (as he is fondly called by his friends) can render 40 clothes into well-pressed outfits in a row.
Nepaless
The moniker 'Nepaless' given to this invention is coined from two words; NEPA – which is a lodged-in-the-brain acronym for the National Electric Power Authority in Nigeria despite being rebranded to Power Holding Company of Nigeria (PHCN) – and 'less' – a suffix that announces 'without.'
The Nepaless Iron surely doesn't need the go-ahead of the power authorities and can press clothes efficiently, making the name no short of a significant and accurate description.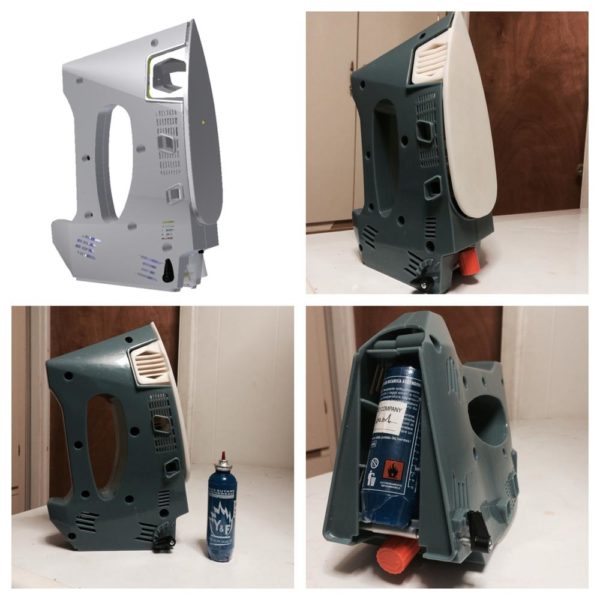 In Nigeria, the butane canisters this invention uses go for NGN 120.00 (about USD 0.30) – which is a no-brainer for corporate workers and gentlemen and women living in areas struggling with power challenges.
The iron, whose first prototype took about two years to complete, is a user-friendly product because the design is centered around user ergonomics while being tailored to function in most habitable environmental conditions, making it very reliable.
China To Nigera
The said canisters are being manufactured by a company in China, but at the same time, provisions are being made to facilitate its local production in Nigeria. The projected calculation rate is judged to serve all functioning irons to a fault, along with a recycling process that makes it possible for users to get discounts on recycled canisters.
This breakthrough invention didn't come without its own set of hurdles and red-faced moments, as Adeniran revealed that time came when he grew tuckered out and drained at the feet of the invention, almost deciding to discontinue the process.
Due to how demanding the project was and the stress it burdened on him, he once decided to put it all aside and continue with his life. But later on, he picked back up and checkered his pace, learning on what has so far been an adventurous journey that interest is critical to any accomplishment in life.
In a conversation with Outpreneurs, he revealed that there are times when being an inventor will involve your many failures, but you should be able to persevere and keep track of your work. In his words; "It is like you are working on a research document; anything you find out is something you can always build on to climb up the ladder."
Funding
Adeniran's wayfaring to become a globally recognized inventor took a hit back in 2015. That year, he sought funding support for the Nepaless Iron and put up an online crowdfunding campaign to raise NGN 20 Mn (USD 55 K). Unfortunately, all his efforts yielded was a meager NGN 30 K (USD 82.00). He replicated the campaign in the United States and was able to raise USD 1500 K.
At some point, he was labeled a financial desperado who wanted to rip people off in the name of crowdfunding, and that was a saber in the heart of his project.
He also cited that the U.S. campaign would have been more successful had the country been hamstrung by power problems of its own. It appears the invention would be a lot more useful in Nigeria and other parts of Africa that are bedeviled by electricity challenges.
Even after being called names and dismissed as a fraud, he went on to create prototypes of the Nepaless Iron as a way of contributing to Nigerian technology. Better parts of the project were done in Lagos, after which he journeyed to the United States to get materials from tech firms to complete it.
"It is a great move for Nigerians to help people who need surgery abroad, but we also need to support technology. If we support inventors, Nigeria will be a better place", Ayokunle remarked.
Mass Production
Despite living and working in the United States where there is hardly any power problem, Sean uses this gas-powered pressing iron in his home. Some modifications and iterations have been made to the earlier prototype, making the gas canister last fifteen times longer than the initial prototype.
The innovation has not undergone mass production, not because of the lack of funds, but because the Nigerian is a stickler for the right strategy.
Not chomping at the bit and bursting at the seams to just latch on to the idea and blast off into the African market with what appears to be a breakthrough, he'd rather put in more work and wade through more processes to make the invention superb and near-perfect.
"It is easy to blame the problem on the fact that I don't have sufficient money to mass-produce the Nepaless Iron, but sometimes it's all about having the right strategy.", said Adeniran.
He is, nonetheless, putting two and two together to rope in angel investors not just for the Nepaless Iron, but for other inventions still in his engineering stables. "Inventions are potential solutions to specific problems faced by Nigerians," he enthused.
The device, with the present cost and volume of production, goes for NGN 5 K apiece. But the inventor is convinced that the price will drop in future based on economies of scale.
Early Life
Ayokunle Adeniran lived the early parts of his life in Ekiti and Ondo; two states in western Nigeria. He moved to Lagos in his teens to attend secondary school. A soccer lover, video game fan, and people person, Sean likes to network, learn and play.
He gained admission into the Department of Mechanical Engineering at Covenant University in 2004 and became a baccalaureate in 2009, with no less of the vehemence and spirit for Engineering as when he began his tertiary education.
As a kid with an on-fire passion for innovation, he made his own toys from parts around the house which he sold to kids in his neighborhoods – an entrepreneurial prodigy to say the least.
After his studies, due to his experience in the design of elevator components and consumer products, he got hired as a Mechanical Engineer by New York-based packaged-consumer product firm.
Forming part of some of the most important moments for his invention, Adeniran remains grateful to all those who warmly received his idea and posted to create awareness about the Nepaless Iron.
Although the Nepaless Iron is yet to gain widespread acceptance and entrepreneurial breakthrough, it remains a pursuit of this young Nigerian innovator.
Featured Image Credit: Africanloving.com