Women entrepreneurs in the MENA ecosystem look set to benefit from a number of key events earmarked for the coming months, which are geared towards promoting and supporting entrepreneurship amongst women. From Cartier's prestigious entrepreneurship competition, through tech bootcamps which have been scheduled to take place in both Cairo and Beirut, to the much-talked-about Facebook online business course which is already underway, women entrepreneurs in the MENA region look set to be kept engaged in the coming weeks.
The scheduled events, which are aimed at the furthering the growth of women entrepreneurs in the region, will be looking to provide women in the region with the requisite expertise, skills, and support (both financial and moral), that will put them in a better position to thrive in a developing entrepreneurial scene. The activities are geared towards arming the region's women entrepreneurs with the necessary tools that will foster the development of the emerging ecosystem.
From the turn of the year, MENA has played host to a number of the world's most significant and notable entrepreneurship events and conferences. Good examples exist in the form of the Cairo's Maker Faire and Dubai's Innovation Arabia Summit. Another valid case in point is the just-concluded Mashable's Social Media Day event, which was held at Cairo's Greek Campus last week; an event which gathered stakeholders, and also involved brainstorming sessions and insights from some of the region's experts on many helpful tips and best-kept secrets that are instrumental to business growth and development in the region.
In the midst of the myriad of events that have been held in the region this year, one group that has been somewhat underrepresented and sometimes, conspicuously-absent, appears to be the fierce businesswomen within MENA's ranks who are making waves in their own right. As indicated by a 2015 study conducted by ArabNet on startups in the MENA region, about 24% of the region's startups are run by females. More so, when this figure is juxtaposed with what is obtainable from global tech hubs of the likes of New York, it holds up well, as only 15% of startups in that region have female founders. The discrepancy, however, is noticed when the subject of venture-backed startups is broached. According to the findings from the study, only 12% of the entrepreneurs who secure investments in the MENA region are women; a far cry from what is the case amongst their western counterparts. This informs the need for increased effort into women-centered entrepreneurship growth schemes.
Now, how far have we gone towards fixing that discrepancy? Well, we may not really have a good idea at this point, but if anything, the women-focused entrepreneurial schemes that will be highlighted below give some credence to the assertion that there is a current crop of exciting opportunities available to women entrepreneurs in the region, and they might yet result in significant breakthroughs. From tech classes to entrepreneurship competitions, and networking opportunities here's something for the womenfolk who are looking to hone their professional skills and create their own path to business success in what seems a male-dominated network.
AlMakinah Gear Up Bootcamp For Women
August 20th – Cairo, Egypt
The program is looking to address the imbalance in the gender ratio in tech by providing top-notch educational opportunities for women. Between August 20th and 31st this year, AlMakinah has scheduled a 100-hour frontend web development course that is targeted at enhancing the technical expertise of women.
The women-only edition will take place at AUC Tahrir and attendees will be furnished with the basics of programming and website building. This is expected to improve expertise and build capacity amongst women who are looking to improve on their coding skills.
AlMakinah, a tech startup which was incubated by AUC's Venture Labs, is also looking to launch a crowdfunding campaign which will sponsor 25 women in attending the course and making a career out of the tech field. This is coming on the backs of its success at last year's Riseup Explore competition and partnership with Global Shapers. The deadline for applications into the AlMakinah Gear Up Bootcamp For Women is August 4th you can apply here.
She Can Conference
July 21st – Cairo, Egypt
One of the biggest events for women entrepreneurs will be hosted by Entreprenelle on Friday, July 21st. Entreprenelle is an Egyptian startup network for women entrepreneurs and the She Can event is expected to bring together some of most enterprising women on the entrepreneurial scene. The event is planned as a day-long conference which will feature speakers, workshops, and other activities that are geared towards empowering and educating women who are treading rocky paths in the Egyptian business climate.
Since its inception in 2016, Entreprenelle appears to be already carving a niche for itself in the world of business as it claims to have already hosted a number of events and conferences across Egypt, as well as forming partnerships with some successful lady-powered businesses. Refer to Entreprenelle's event page for more information about the upcoming She Can conference.
Facebook's #SheMeansBusiness Initiative
Ongoing – MENA region (online)
Teaching women entrepreneurs how to take marketing matters into their own hands was the motive behind the earlier announced partnership between social media giants, Facebook, Egypt's Ahead of the Curve, Emirates Foundation, and UAE's Sheraa Sharjah.
The initiative which is essentially a course on marketing essentials is available online for free to anyone with a Facebook account, which sounds like basically everyone. The online interactive marketing course encompasses such aspects as business tips, brand awareness, advertising strategy, and marketing advice.
Ahead of the Curve is known to be quite adept at putting together such training courses which they announce on their Facebook page. You can participate in #SheMeansBusiness by signing up for the course via Facebook.
Cartier Women's Initiative Awards
Applications due August 31st – MENA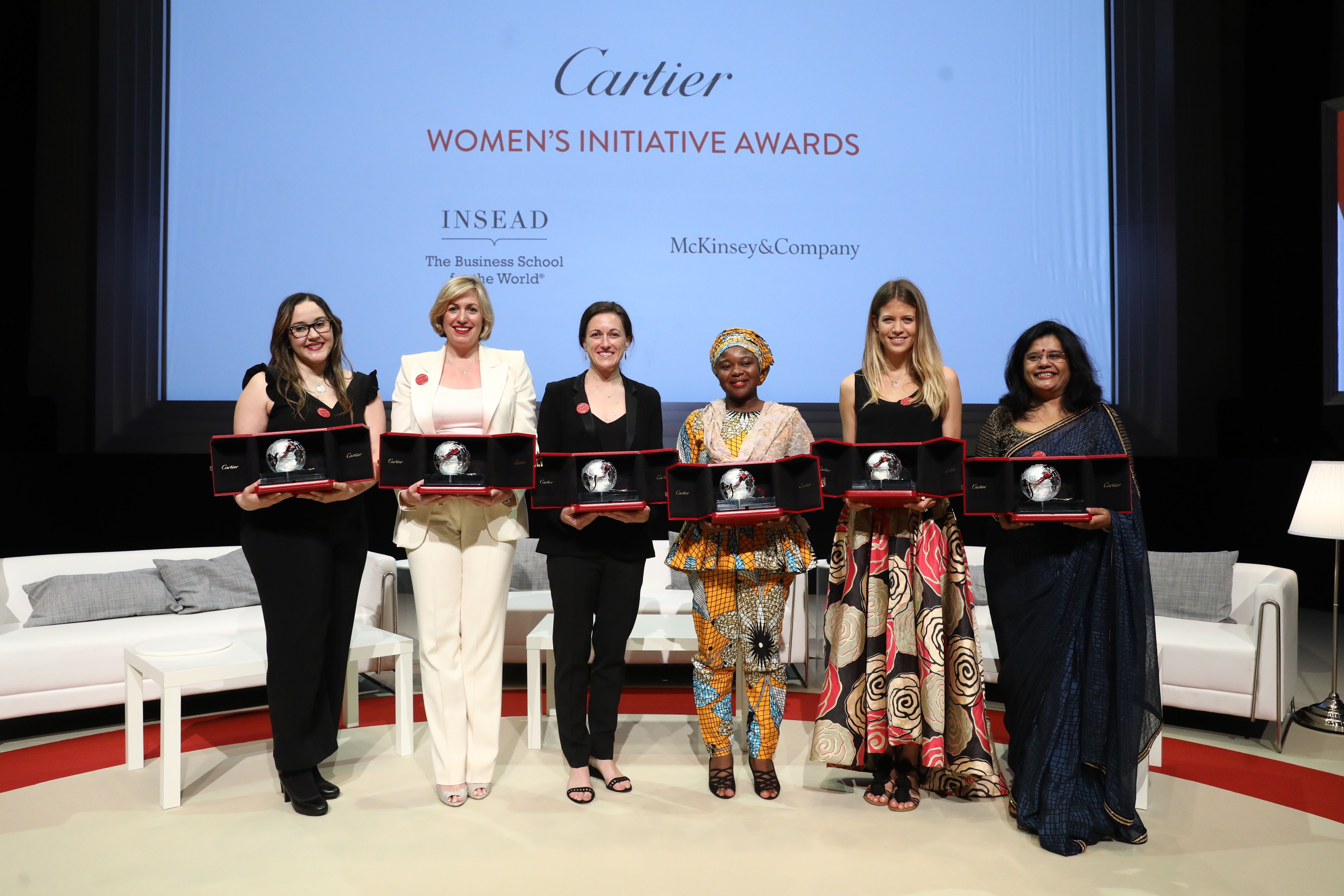 One of the world's most-renowned names in the jewelry industry is hosting the 11th edition of its annual Women's Initiative Awards competition. In partnership with consulting giants, McKinsey & Company and INSEAD business school, the Cartier Women's Initiative Awards is inviting women entrepreneurs from all sectors all over the world to apply for the program.
The top six women entrepreneurs who make the cut in the aftermath of the competition will be rewarded with up to USD 100 K in funding, as well as personalized business mentorship. Egypt's Sara-Kristina Hannig Nour, founder of Sara and Lara's Baskets, and Samira Negm, Raye7's co-founder, are amongst past winners in previous editions of the competition. You can find more information about the upcoming event here.
Arab Women In Computing Conference
August 10th-12th – Beirut, Lebanon
The fifth in the series of this annual international conference will take place in Lebanon, as an initiative of ArabWIC. MENA women entrepreneurs can leverage the opportunity to connect with stakeholders from other ecosystems, as the event is billed as a celebration of Arab women in technology.
The conference is expected to bring together over 500 technology professionals and investors who will be deliberating and providing insight on a number of topics which will border around such aspects as innovation, trends, and entrepreneurship. Also, a three-day tour of Lebanon has been included in the event's itinerary as part of its highlights. Learn more about the event here.
Image Credits: wamda.com, iwecaward.com, fab.ng, bizenglish, egyptinnovate