Nigeria Is Getting Ready To Try Out 5G Services Despite Continued Struggles With 4G Adoption
By
| August 29, 2019
Even though figures from the GSMA put 4G adoption in Nigeria at a paltry 6 percent and coverage at just 51 percent as of June 2019, it is not stopping Nigeria's telecom regulatory body, the Nigerian Telecommunications Communication (NCC), from taking things to the next level.
Fourth Generation (4G) has been around for quite some time but millions of Nigerian mobile subscribers are yet to get a decent feel of it. Not minding that, the NCC has now approved a dedicated spectrum for trial deployment of Fifth Generation (5G) services in the country.
This was revealed by Prof. Umar Garba Danbatta, Executive Vice Chairman of the NCC, during the inaugural edition of Digital African which got off to a start in Abuja on Tuesday.
NCC has approved spectrum for 5G deployment trial, says Danbatta

As ITU's 1st Digital African Week kicks off in Abuja

Link: https://t.co/o9hddfUZkx#ITU @ITU pic.twitter.com/OYYnc281uG

— ncc.gov.ng (@NgComCommission) August 27, 2019
While speaking to stakeholders at the event, Danbatta talked up the evolving trends in the ICT space which are serving up a fertile ground for technologies like the Internet of Things (IoT) applications and Smart Cities and Communities (SC&C) to thrive. He also stated that the Commission is ready to take a swing as the deployment of Fith Generation (5G) services in Nigeria.
"In this regard, we have approved spectrum for the trial of 5G services in the country," he said, while also reiterating that the licensing of seven infrastructure companies (Infracos) to deploy metro and intercity fibre and broadband Point of Access with a minimum capacity of 10Gbps across the 774 Local Government Areas of Nigeria, is in line with the 8-point agenda of the Commission for the provision of ubiquitous broadband infrastructure across the country as part of the developmental policies of the current administration.
The NCC's Executive Vice Chairman also expressed certainty that giving the all-clear for the implementation of 5G will put Nigeria on track to achieve its Vision 20:2020 which takes note of the relevance of ICT in socio-economic development.
The event, Digital Week, is a four-day conference put together by the NCC in collaboration with the Management of the International Telecommunications Union (ITU-T) Study Group 20 and Study Group 5 Regional Group for Africa Meeting, and this its first edition. The conference is aimed at bringing all stakeholders in the emerging digital space together to chart the course for future technologies in Africa.
The 5G network can be expected to come with such perks as high-speed, reliable internet and a robust network, further boosting Nigeria's emergent economy. But it does seem like time will have to tell when and how this will happen as the country was similarly pumped when 4G came around only to see things grow tepid as per adoption.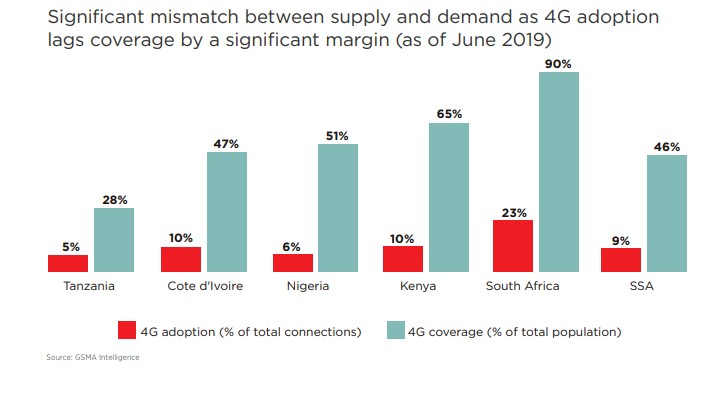 GSMA recently estimated Nigeria, Kenya, and South Africa to boast as many as 28 million 5G connections (3 percent of total mobile connections) in the next five years. In that case, with Nigeria sanctioning its trial deployment, telecom operators in Nigeria may soon need to further upgrade their networks to multi-standard 5G-ready infrastructure.

Featured Image Courtesy: mobileecosystemforum.com