Is Your City Nice Enough? Yearly Study Names 5 African Cities Among The Worst To Live In Globally
By
| September 5, 2019
Africa holds the unenviable record of having most of the world's least livable cities, a recent study has found.
In the just-released "Global Liveability Index 2019" put together by Economist Intelligence, one would have to look towards the bottom end to find several African cities seemingly vying for the bottom spot, having been ranked as some of the world's worst places to live in.
The annual Global Liveability Index of 140 cities around the world is researched by The Economist Intelligence Unit (EIU).
The index pays attention to more than 30 qualitative and quantitative factors spanning five broad categories, weighted as follows: stability (25 percent), healthcare (20 percent), culture and environment (25 percent), education (10 percent), and infrastructure (20 percent). In-house analysts and local contributors are given the responsibility of rating for qualitative factors. Scores are compiled on a scale of 1-100.
This year's list didn't exactly reveal any big change as Vienna, the capital of Austria, retained is place as the world's most livable city for the second year running with near-perfect scores across all the criteria. Another trend that didn't change in the list is the fact that African cities continue to hog the bottom end of the list.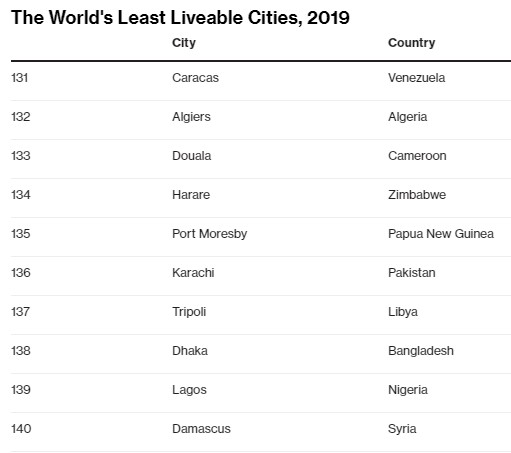 For the third year in a row, Nigeria's commercial hub, Lagos, ranked as one of the worst places to live in, and other African cities like Harare in Zimbabwe and Tripoli in Libya didn't fare much better. As a matter of fact, five African cities can be found in the bottom 10 — the part of the list that says; "this is not a nice place to be."
The African cities in the bottom 10 of this year's Global Liveability Index are:
Lagos (Nigeria)
Tripoli (Libya)
Harare (Zimbabwe)
Douala (Cameroon)
Algiers (Algeria)
Some of the cities bossing things on the top end of the list are;
Vienna (Austria)
Melbourne (Australia)
Sydney (Australia)
Osaka (Japan)
Calgary (Canada)
Vancouver (Canada)
Toronto (Canada)
Tokyo (Japan)
Copenhagen (Denmark)
Adelaide (Australia)
On the bright side, it's not entirely a bleak outlook for the African continent as one African city appears to be on an upward trajectory.
Abidjan in Côte d'Ivoire has been climbing up the ladder for the last five years, though the West African city didn't manage to improve upon its position this year. Abidjan stayed put on the 123rd position out of 140 cities for 2019.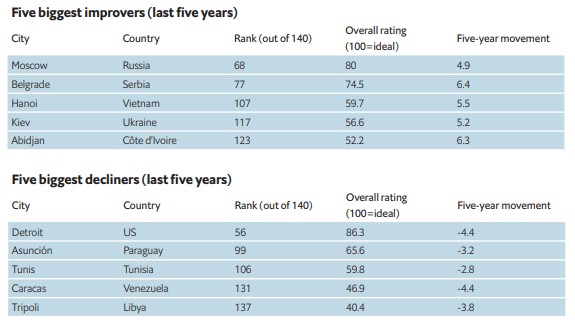 Before this year, Abidjan had gone at least one position higher over the last five years — something the report attributes to improvements in governance and diversification of Côte d'Ivoire's economy.
Other cities in the list of the world's least livable cities are;
Damascus (Syria)
Dhaka (Bangladesh)
Karachi (Pakistan)
Port Moresby (Papua New Guinea)
Caracas (Venezuela)