There Is A Village In Nigeria That Generates USD 4 Mn Every 24 Hours – Here's All You Need To Know
By
| May 30, 2019
Traffic. A gridlock of people. Colourful umbrellas. Phone repairs. Stacks of laptops. Busy shops. Nigeria's Computer Village in the Lagos State Capital of Ikeja is the largest market for ICT products in West Africa and has put itself on the world's technology map.
There's no argument that people from different parts of the country and outside do business here – either they have shops of their own, apprenticing under some handy techie, or coming to buy all sell both new and fairly used products.

Organisation and consistency have earned this technology hub a big name among Lagosians and Nigerians at large. Save the fact that Indians, Chinese, and the likes come to do major transactions here, whether electronically or physically, Computer Village is the go-to for all gizmos original, if any.
If you are looking to get a phone or laptop at the best price and working condition, best chances are that you'd be advised to pay this place a visit.

So Why Is This Market So Hyped?
Well, there is hardly any other place in the country that has such a proliferated collection of gadgets and repairers. Abuma Shopping Complex in the Edo State capital of Benin, even with all its years of seeming glory, does not come close, let alone the much stories Eneri Junction in Warri, Delta State.
Of course, there are other places in the country that boast of a lot of genuine products and trustworthy repairers, but Computer Village, to give you a perspective, has been regarded as Nigeria's Silicon Valley.

February last year, the president of the Computer and Allied Products Dealers Association of Nigeria, Ojikutu Adeniyi, said that Computer Village generates NGN 1.5 Bn (USD 4,166,666) daily.
There are more than 3,000 ICT Small and Medium Enterprises in this market, most of which sell computers, phones, phone accessories, computer accessories, and other household electronics.
Then, this is the only technology hub West Africa knows of that has signed a strategic partnership with Silicon Valley in the United States, in bid to promote its infrastructural development. Brands such as TECNO, Gionee, Infinix and others are well represented in this gadget hub.
Going by provided statistics, this Lagos-based market generates as much as USD 2 Bn in a year. Data have shown that more than 20 million phones are sold at the village in a month, and the National Bureau of Statistics (NBS) has saidthat the market contributed about 2 percent to the national gross domestic product (GDP) in 2014.
Google CEO, Sundar Pichai, after landing in Lagos on July 27, 2018, visited Computer Village. It was then and there that he revealed plans of the tech giant to train 10 million Nigerians in the next five years
Mind you, Lagos, which is the commercial hub of Nigeria, would be one of Africa's largest economies of it were to be a country on its own. The economic impact Computer Village has on Lagos State and Nigeria has been so meaningful that the market has been slated for relocated twice and such plans never actualized. Not only does it provide employment opportunities, but also creates a learning environment for just about anyone.
Back To The Bushes Where It All Began
Ikeja has been known to be a commercial region for as long as Nigeria can remember. Specific figures say the place began its trading activities back in 1976, after it was turned from an array of farmlands into a constructed road that attracted artisans and lawyers.
During that time, there were six regions in what is today known as Lagos State. Collectively known as IBILE – Ikorodu, Badagry, Ikeja, Lagos Island, and Epe – were what comprised the state then. Ikeja was generally known to be the most commercialized of all six, leading the pack when it came to trading even before the advent of advanced civilization in the West African country.

The Murtala Mohammed Airport, the only international airport in a large stretch of geopolitical zones in Nigeria, is located in Ikeja. After it was commissioned in the year 1979, the region became the flawless point for importation into Nigeria and exportation to other parts of the world.
Soon after, Ikeja waxed into a trade hub on its own as an intimidating pack of clearing and forwarding agents chose the place as the ideal location for their merchandise, being that it was closest to the airport.

Computer Village was initially located in Surulere, a residential and commercial local government area still in Lagos State. The only known successful relocation the market has gone through was its move to Ikeja, to satisfy and make import and export needs all easier.
At the time, 2001, political dispensation absorbed the introduction of the Global System for Mobile (GSM) into the country. As Ikeja continued to grow rapidly because of international relations, Computer Village had no choice but to follow suit.

The Bride Of Tech Companies
It would not be an overstatement to say that Computer Village is the one place that advanced technology in Lagos and Nigeria, and equally pushed forward the digitisation of activities in the country.
Ranked among the best ICT markets in the world, this is the place where technicians, developers, and software engineers come to do business. It has become to must-go for thousands of youths, both educated and under-educated, most of which are now either employed or practising to become tech masters of their own.

Because of this condensation of tech-savvy youths, Computer Village has become the bride that foreign tech companies are ready to court and partner with to transform the continent and put to use it potential digital riches.
The first of such notions were formed in February of 2018, when the chairman of Silicon Valley Nigeria Economic Development (SV-NED Inc), Chief Temitope Ajayi remarked that Indian, Chinese and Silicon Valley companies have set their eyes on Nigeria as the next destination for ICT development.

It would not also be amiss to say that the first set of techies were brewed in Lagos, even if not Computer Village. The potential of the state and the country was very much identifiable in this region, enough for international companies to want to make investments in the country.
When you take a look at the number of tech hubs, co-working spaces, gadget stores and experience centres in the city, you may just have Computer Village to thank for showcasing talent and potential to foreign investors, who now are very willing to pump millions of dollars.
According to Temitope, these companies, all of which combine to an estimated worth of USD 350 Bn, have sighted significant potential abounding in Nigeria, and are set to explore the areas of cooperation, partnership, and business.
She said that SV-NED is ushering in Oracle, Cisco, IBM, Google, and other multinationals to Nigeria to help train Nigerians and foster the development of the country's ICT landscape.

Prior to these developments, Nigerian had to travel abroad to train in some tech-related field. Temitope revealed that some of them can fly to the United States for a one-week course that would cost them USD 16 or USD 28 for certification, asides transportation fees.
But instead of this, Computer Village is attracting professionals from some of America Ivy League universities to help those technologically inclined hone their craft and equally spread the knowledge.

"We will be happy to have a strategic partnership and collaboration with Silicon Valley, California, United States of America. The strategic partnership is to promote information technology infrastructure by training our intellectual properties, recruiting and certifying Nigerian candidates," Ojikutu said in a related comment.

It was stated that experts from San Francisco's Silicon Valley, Stanford University, New York University, Morgan State University and University of San Francisco would on the backs of the SV-NED's second immersion program, train Nigerian ICT professionals and stakeholders in artificial intelligence, the Internet of Things, business intelligence, blockchain, startups; computer software, hardware, middleware and genetics engineering, cloud, learning python, corporate executive, and SQL for data analytics.

A Labyrinth Of Connection
During my last two visits to Computer Village, I was able to fully understand just how connected this place is and why it has been touted as the Silicon Valley of Nigeria. The market, without exaggeration, hosts about 1 million people every day, but there is more to this village than congestion, noise, and buy-from-me advances.
Like America's well-known technology haven, this Ikeja-based community of retailers, wholesalers, and customers do not rely on the geography alone, as they communicate via Whatsapp groups, Telegram channels, and Insta posts.

The marketplace has its bad side, and the most prevalent is the issue of stolen phones. However, the Computer and Allied Products Dealers Association of Nigeria (CAPDAN), which is a trade association comprising Ikeja Computer Village traders, stepped up to the problem electronically.
The body joined forces with a software company to develop a web portal to enable the market track stolen phones. It was a move worthy of emulation by even the Nigerian government.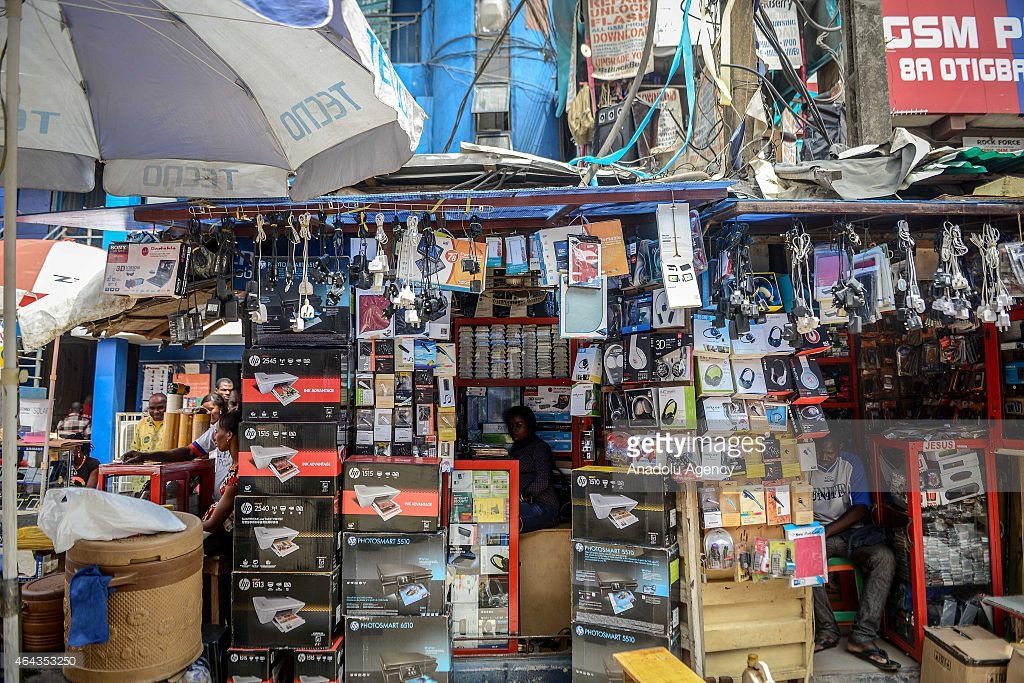 Most Computer Village store owners market their goods online. I know of sellers who have Jiji accounts, where they showcase their products at competitive prices and provides addresses back to their brick and mortar stores in Ikeja.
There are traders who sit in the comfort of their homes, receive shipments from the U.S, have their workers market them, and sell at seemingly convenient prices. Curating videos and mixing pictures that get posted on social media, including Whatsapp statuses, they are able to reach a wider range of people for patronage.

It is needful to mention here that Computer Village has been gifted a Wi-Fi station by technology giant Google. When the company launched the free connectivity service in Lagos, September last year, Computer Village was one of the parts the initiative got to.
According to reports, Google had installed six workstations in this market to provide free internet service in the environment. While the initiative was generally commended and said to have improved connection in Computer Village, some offices reportedly have weak signals because of their location in the village.

In Ikeja Computer Village, competition is at its peak. In as much as traders try to collaborate in all regards, prices are different from shop to shop. Sellers go as far as having private Whatsapp chats with customers and slashing their prices significantly to get more patronage.
A friend of mine looked to buy a Chromebook from Jumia but was discouraged by the seemingly ridiculously high prices she discovered – as high as NGN 90 K (USD 250).

She decided to get a seller's number off Jiji and chatted him up on Whatsapp. This seller then connected her with another seller, who claimed to have a stockpile of Chromebooks in his store at Computer Village. Upon visiting this gadget hub some weeks after to try her luck, she was able to get an Acer Chromebook 15 for as low as NGN 40 K (USD 111).

Little High; Little Low
The former executive governor of Lagos State, Akinwunmi Ambode, during his just-ended tenure, emphasized too many times to mention that Computer Village occupies a land meant to be a residential area.
Early, 2017, he moved for the village to be moved to Kontagora in Abule Egba area of the state, a development which was greeted with nostalgia Lagos-wide. Many strongly opined that rather than moving to retain Lagos' initial masterplan for the residential area, Computer Village should be renovated, reorganized, and transformed into a hive of innovation and hub for tech startups.

Without flinching, I would say that for a place that's supposed to be Nigeria's Silicon Valley, the market is disorganised and confusing. Hosting both shops and residential buildings makes it even more irregular to behold.
If you are visiting this place hoping to behold one neatly arranged fleet of shops and beautifully lined creative banners, you would be disappointed. You could almost pass by the site and either not notice it or mistake it for just about any other kind of market you would find in Nigeria.

Well, they say it is not about how it looks, but what goes on within, and NGN 1.5 Bn daily isn't using crayons to zig-zag across a plane, white piece of drawing paper. Perhaps that is why after several months of the motion to relocate the village to its supposed new site, not a single shovel has gone into the virgin soil in preparation for the move.
And it is likely never going to happen. Frankly, Computer Village needs a well-built ICT plaza or park where activities can be more organized and the market easy to navigate.

If you are going to Computer Village, chances are that you would be told to hold your purse or bag very close to you. You would also be told not to bring out your phone in public, to avoid being un-noticingly robbed.
"Just enter the market with a game-on attitude and no-nonsense demeanour." Despite the stories of theft and scams, the gadget hub yet holds its own as the place where many Nigerians make their livelihood.