Meet The 12-Year-Old Home-Schooled Prodigy Who Is Now The Youngest University Student
By
| November 1, 2019
At only 12 years of age, Viemens Bamfo has made history by becoming Ghana's youngest university student.
After acing the entry exams, Bamfo was admitted into the Univerisity of Ghana to study Constitutional Law and Accounting. The prodigy now dreams of going all the way to someday take country's top job — the Office of the President.
"I want to become the President of Ghana, I want to lift high the flag of Ghana and make Ghana a truly independent country like China, the US, Britain, and other countries," he said.
Agreed, a tad too ambitious for a 12-year-old but based on his track record, it might be a tad too hasty to rule him out.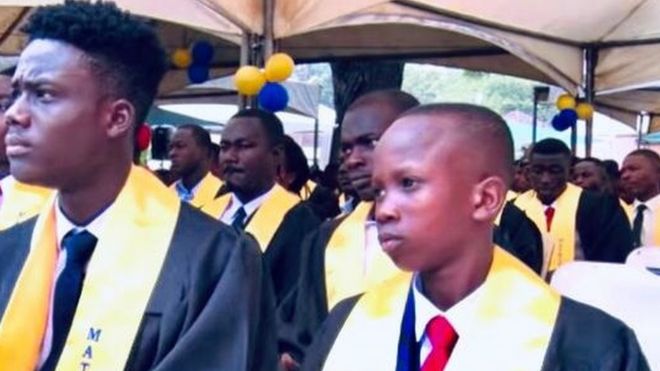 Out of 3,000 students who have just been enrolled at the University of Ghana, Bamfo may seem out of place being that he is not just the youngest, but perhaps "too" young. But he's earned every right to be there, especially as he made light work of all the entrance exams.
And what makes his story all the more interesting is the fact that he's been entirely home-schooled by his father, Robert Bamfo, up until this point.
Robert, who holds a degree in chemical engineering, told the BBC's Focus On Africa that he is not surprised by his son's exploits.
"I have invested time and energy giving him the necessary essentials that will help him to take up the challenges and the associated opportunities that go with it. So I wasn't shocked."
The father of the prodigy also let the whole world in on the secret behind raising a prodigy.
"Initially I had made my boy appreciate that he is not going to be defined by the law of averages, that he should be an outlier. That's what he should strive for, and that calls for hard work and he is prepared to do it."
With admission into the University of Ghana now in the bag while Bamfo is still only 12, the young lad has certainly given himself a head start. He hopes to learn about constitutional law, the political systems of administration, principals of management, economics, and accounting.
And perhaps, one day, all that hard work will earn him a place at Flagstaff House.
Featured Image Courtesy: JoyNewsOnline